Summer is right around the corner!
Time to plan your perfect and unique Ibiza Experience for 2023.
Opening parties on the island are in full motion and the number of tourists and temperatures rise daily during this period of time.
A large amount of excitement and new beginnings lies in the air.
As the world-famous clubs are opening, life returns to the island.
What does Ibiza hold in store for you?
Ibiza is a special island with a mystical vibration.
It is said, that everyone who sets foot on the withe island receives exactly what is needed.
This can range from lessons, new business ideas, or a new connection to a former stranger.
Ibiza definitely has an individual vibe, that cannot be found anywhere else.
---
Ibiza Must Do's 2023
Yacht charter
An all-time must-do and a favorite of any age is a day on the Mediterranean Sea.
Charter a yacht with your family or friends and spend a day full of laughter, sunshine, cooling winds, and beach waves.
Set over to beautiful Formentera or take a look at the secret caves and Es Vedrá from the most spectacular waterside.
Organizing a private Event:
Ibiza is an island without limits.
You can celebrate a special occasion like nowhere else in the world.
Wether it is a small and sacred ceremony for a wedding renewal, a special birthday, a bachelor's party, or the launch of a new business, there is no limit to your imagination.
Everything is possible in Ibiza.
We offer one-of-a-kind collaborations with many services to provide you with the most quality and perfection on your special day.
---
Things to do in Ibiza for couples
As a couple, you have many options for extravagant hotels and resorts.
Whether you want to celebrate a special anniversary, a honeymoon, or simply spent a wonderful vacation together, Ibiza is always a good idea.
Many resorts even offer special couple massages or treatments.
How about surprising your spouse with a private, romantic dinner at the beach or at your rental villa?
We can provide you with the most exquisite private chef or catering at your chosen location.
One of our favorite excursions at the moment is a very special one from Into The Island. The only TOUR in Ibiza that offers 4x4 Safaris, hiking & boat rides in one day. 
---
Things to do in Ibiza for young adults
Ibiza Pool Party
Ibiza is known for its wild daytime parties.
How about spending one of the hottest days at the pool of a world-class hotel or resort?
An absolute must-do!
The pool parties are legendary.
While sipping a refreshing and fruity glass of sangria, you and your friends can enjoy the sounds of the typical Ibizan DJs. Large Bali Beds are offering the needed shade in the hot midday sun.
A relaxing pool day or a wild and fun party in the water, you decide. The famous OBeach offers exactly that.
Themed pool parties with DJ sounds and champagne showers.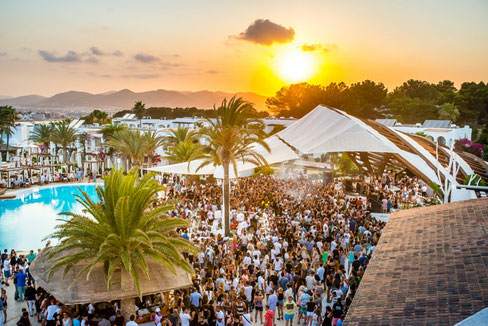 ---
 Expanding the horizon
As a young adult, it is very important to leave the comfort zone once in a while.
The easiest way to do this is to experience new adventures or life situations.

A sneak peek into different cultures can help you with this. Ibiza is known for its many cultures, a melting pot as you could say.
The former hippie home is still very drawn to spiritual practices, that the hippies and spiritual leaders brought to the island.
If you are up to it and have an open mindset, why not experience the drums in Benirrás on Sundays, join a meditation circle, or take a look into the traditional Ibizencan handcraft on a farmer's market?
Take a stroll around the beaches in the north of the island, where not a lot of people will cross your way, or enjoy yoga sessions, hosted by healers and shamans.
---
Best places to stay in Ibiza for 50year olds
Terra Viva
The wild island has many hidden gems that cannot be found easily on the internet.
For example the so-called Terra Viva, an agriturismo, with many fields of crops, fruits, and veggies, animals and a little restaurant that offers food, only produced of their own land.
This activity is a calming combination of delicious food, learning how to grow products, and connecting with Ibiza's nature.
This is also a great place to bring younger family members and children, as they learn the circles of life and agriculture.
As a bonus, many cute animals are living on the beautiful and authentic farm.
Cova de Can Marçà
Visit the caves of Ibiza in the North of the island.
This day trip is especially pleasant on a hot summer day, as the caves are in the cooling undergrounds of the island.
Hiking in Ibiza
For those outdoor lovers, the island offers stunning trails to take hikes along the sea, breathe in the crisp air and enjoy mornings united with nature.
---
If this was not enough inspiration to book a stay in Ibiza, you have to discover the island on your own.
We are happy to assist you with any needed information on the possibilities of the island.
Whether you want to book a villa and are unsure about where to stay, charter a boat, or want a ticket for one of the exclusive pool parties, we are here for you!
As we are locals and residents of beautiful Ibiza, it provides us with great pleasure to see guests from around the world discover their love for Ibiza.
You name it, we've got ot-AVANA