---
Anniversaries, round birthdays, and special celebrations are festivities that most of us like to celebrate in a remarkable setting.
For all of you, reading this blog, Mr.X will be a great example of celebrating an extravagant party without limits...
---
The most exclusive Ibiza party of the year
Mr.X, a German doctor, is turning 50 in the spring of 2023.
His plans for the special occasion indicate, that a party beyond imagination will take place in Ibiza!
As a first step, he invited all his friends and family to the wonderful island of Ibiza.
To highlight the special event, there will not only be a wonderful day planned but an entire week, filled with adventures, parties, and exciting trips around the white island.
Due to privacy reasons, it goes without saying that we cannot reveal details about the celebrations planned for our customers.
To start your imagination: As an unusual add-on, he created a website for friends and family, including a countdown to the special trip.
The website includes informations for everyone about the planned activities. He included pictures of the adventures, so everyone invited could already start dreaming of white beaches and crystal-clear waters.
How about spending not only one day per year for the celebration of a new year of being alive?
Why not lengthen the special feeling of excitement and fun with family and friends?
Do it like Mr. x and spend an entire week with special people, that are close to your heart!
---
4 things that should be on your To-Do list in Ibiza!
Boat charter day:
The number one item that should never be missed on your to-do list.
Who doesn´t like to feel salty water on the skin and refreshing winds streaking the face?
A day spend on a motor or sailing yacht is one of the most pleasurable experiences the island has to offer.
For your comfort, a skipper and crew are included in the booking.
In the morning, the Yacht awaits all of you in the harbor.
The crew makes sure that you and your friends can experience an unforgettable and safe day on the salty Mediterranean Seas.
Set over to the small island of Formentera, also called the Caribbean of the Mediterranean Sea, and enjoy lunch at restaurants next to the white beaches.
Find a selction of our charter yachts here
---
Private villa party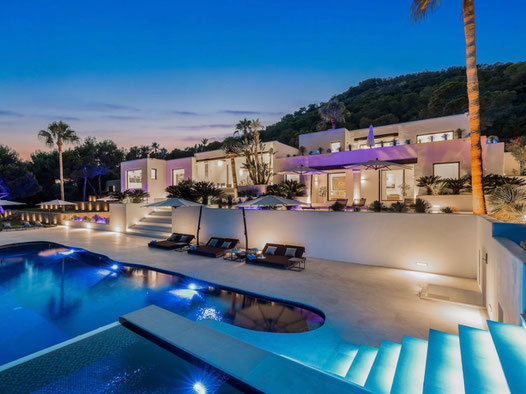 Renting a luxurious villa for your stay is a great option to be close to everyone.
The highest level of privacy is assured, in comparison to a hotel, where many other guests will stay at the same time.
Another benefit of your own housing: Parties can be enjoyed and designed to your individual wishes.
To name a few of the most wanted options:
-Private chef for a culinary highlight
The atmosphere of a private villa party cannot be topped.
On private grounds, no disturbances or unwanted interruptions by strangers will take place.
Watch the stunning star-filled nightskies and turn all your kinky dreams and imaginations into reality.
Celebrations until sunrise, filled with breathtaking views from your private property onto the endlessness of the sea.
---
VIP tables in the world's best-rated clubs
Ibiza's nickname "Party Island" is not an empty promise!
If you and your guests like to go out to party, Ibiza is the place to be. The island has to offer a wide variety of Clubs!
Among them, the number 1 rated Club in the world: Hï
For a special occasion, how about sitting at one of the wanted VIP tables in the exclusive area? Who knows, maybe our idol celebrity could be sitting right next to you.
Live up to your full Ibiza experience and dance surrounded by celebrities, who are placed right beside you.
During the daytime, a detour to one of the popular and luxurious beach clubs should not be missed.
Enjoy the calming feeling of sun rays on your skin, mixed with the taste of delicious, refreshing beverages.
To widen the experience, we suggest trying different beach clubs at opposite parts of the island. To name a few must do's:
Nassau Beach, Bora Bora, Cafe Mambo, Experimental Beach, Amante, Cala Bassa, Ayanna, Cala San Jondal
---
Hike through nature
There should not be a stay on the island, that goes by without appreciation for the stunning nature Ibiza has to offer.
The hiking routes are countless, each unique, with different levels of effort.
With time of planning in advance, paths can be discovered that could not be reached via a car.
Take some time to slow down, experience the island by feet, and get fascinated by the many breathtaking facets of the magic island!!
Get in contact for jeep safaris, boat trips, secret hikes and all in one programs like the ones from our friends Into The Island.
---
Do you want to book a trip to Ibiza?
If you as well, thought about spending a special getaway on the white island, I hope this article found you at the right time!
We at AVANA would love to assist you in planning the ultimate experience of a lifetime.
Let us help you to escape into the feeling of freedom, on the island without limits...
Never forget: AVANA You name it, We've got it!
-written by Ariane Buechner