---
Like every year, the official start of the season in Ibiza is Easter weekend or "Semana Santa" as it is called in Spanish culture.
The restaurants and bars are opening their gates and the Hotels and resorts on the island are preparing for the summer ahead.

Workers from the mainland are arriving on the island, along with families that want to spend summer in a warm environment.
Families and businesspeople return to their summer homes, in hope of getting inspired by the island life.
Nothing in the world can compare to the spirit that Ibiza offers during the opening season.
As the birds start to sing a little louder and nature returns to its natural state of beauty.
An atmosphere of freedom and joy rushes through the gates of the most popular beach clubs.
---
How to spend the perfect pool day in Ibiza
Many of the venues with extraordinary pools have an option of purchasing a day pass.
This pass, guarantees guests access to the pool, the restaurant, and the chill-out areas of the special resort. Some of the hotels even include a day pass for the gym or spa area.
---
Why to purchase a pool day Pass in Ibiza?
C

ouples should at least spend one special day, or their anniversary at the pool. Maybe one of you romantics wants to surprise your spouse with a cute daytrip? 
How about planning a special day for your birthday? Gather your friends and invite them to an island must do. This adventure is most fun if spent with loved ones. Many venues include a breakfast option or a fixed amount of money discounted from the overall price - a minimum spend for drinks and food-.
A spa day is a great option to spend time alone. Don't underestimate a day to yourself to recharge your batteries and get more energy to achieve everything  you dream of at your workplace.
If you are working on remote, or as an entrepreneur you could even take your work with you. All of the resorts are equipped with Wi-Fi and safes, to store your laptop while swimming. 
---
Top 5 Hotels with day passes
What is included: Day-Bed, music, credit of 70€ (Min.Spend)

Specialty: 7 Pines Resort was named Dolphin Bay before changing owners! The location is great to spot dolphins if the weather is right and not too many boats are in the way.
Times: 12:00-19:00

Atmosphere: Fantastic view to Es Vedrá like nowhere else on the island. Bali Beds can be booked in the front line to the ocean. Enjoy the wonders of nature through the infinity pool.
What is included: Day-Bed, different packages of welness and yoga treatments, breakfast and lunch options.

Specialty: Incredible authentic Ibizan atmosphere in nature.

Times: 10:00-20:00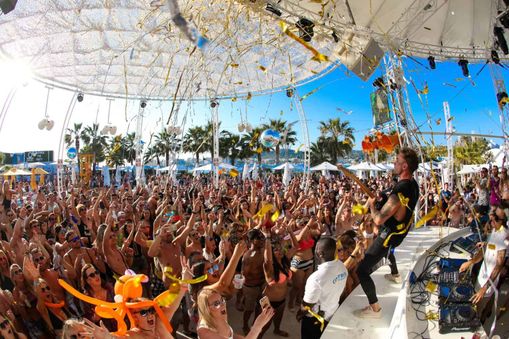 What is included: Day-Bed, access to an incredible outdoor party, live DJ Music, decorations, drink packages, celebration packages.

Specialty: Wild and colorful party vibe, garden area, pool area

Must Do Residencies: Wednesdays w/  Perry Martin & Jamie Love. 
Times: 12:00-21:00
What is included: Sun Bed, sea view, Hammocks, Jacuzzis
Specialty: Destino Outdoor Club, famous resident DJs

Times: 11:00-20:00
What is included: Sun-Bed, access to private beach, individual service, towels, entrance to roof top, Live DJ

Specialty: Sea views, rooftop view, Live DJ, Rooftop Pool, Jaquzi, Private beach

Must Do Residencies: DJ Nurai, DJ Rayco Santos, Manuela Gandolfo
Times: 12:00-21:00
---
Unsure what to choose out of this incredible selection?
Contact us to find the right fit for your Ibiza adventure.
Pack your swimsuit, sunscreen, sunhat and let's go! #Escapeintoyourdreamlife
AVANA-You name it, we've got it!