The white island is known as the party island of Europe.
What many don't know, the electronic party culture emerged not until the 90s!
Before, the island was home to the hippies, which arrived in Ibiza through the '60s and '70s.
This era brought many of the spiritual rituals, that are still practiced today.
The hippie markets (Las Dalias), and drum rituals (Benirras)to name a few.
---
The emergence of wellness culture in Ibiza
No one can deny, Ibiza is not only a place to party but to experience wonderful spiritual and healing energies.
Stunning nature and the energetic point of Es Vedrá are combining natural vibes and the mixture of freedom-seeking inhabitants of the island, in a most beautiful and unique way.
No wonder, Ibiza is home to many artists, writers, and visioneers.
What is it that all of them are practicing on a daily basis?
Which offers were born from the special attitude to life?
If you are not into the high life of the yachting business, or the high-end beach clubs, Ibiza got your back!
---
Retreats in Ibiza:
The dreamy island holds many offers for different types of retreats. Whether it's a wellness retreat, a writing retreat, or a yoga retreat, you will find an option that suits your individual needs.
If you are looking for a challenging yoga retreat to escape the stressful everyday life, you can choose between different options.
The shorter version of the retreat would be a one-day retreat, where you will be guided through yoga classes in nature, followed by a brunch.

You can also find retreats with a duration of a few days or a week, where the participants live together in beautiful accommodations, share healthy meals, and practice yoga classes throughout the day.
---
Wellness in Ibiza:
If you are looking to relax deeply and restore your energy, maybe a wellness retreat would suit you best.
Let go of stressful thoughts and let new vitality enter your body. The home of your soul...
Many hotels are offering one-day spa passes with an extravagant selection of relaxing treatments.
Massages, aroma therapy, and mud masks, followed by vitalizing hours in the sauna, pool, or jacuzzi.
To finish the day, indulge in a healthy lunch or treat yourself to a vitamin cocktail of freshly, cold-pressed juices.(Six senses, 7Pines).
If you prefer a more intimate setting, Nina Sadlowsky offers Aromatherapie sessions, yoga classes, coaching sessions & retreats for individuals and companies alike.
---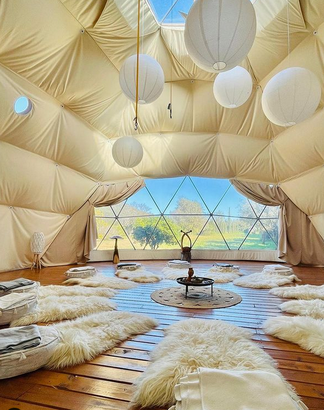 Awareness and spiritual retreats:
Ibiza is also known for its high number of spiritual offerings. If you are on a self-healing path and enjoy long meditations and awareness practices, Ibiza is the place to go in Europe!
You don't have to fly all the way to Bali or India to experience the life-changing freedom and healing energies of a spiritual retreat!
If you have never tried meditation, but are curious if it is for you, you could start with a simple one-day retreat!
Book a meditation class in breathtaking nature and connect with the silence and natural sounds.
Let your soul float, and simply be in the moment.
For those of you that are already deep diving into the transformation and calming effects of awareness, Ibiza has a wide repertoire to offer.
Sound healing, chanting groups, spiritual writing classes, energetic Reiki healers, meditation and self-healing workshops, hypnosis, whatever kind of practice speaks to you, you will find it in Ibiza!
---
How to plan a retreat in Ibiza:
If this got you thinking, the last push you needed to book a retreat on the white island -congrats- you will not regret it!
We would love to assist you in finding the right option.
Let us know what type of retreat or housing option you are interested in.
As we are locals in beautiful Ibiza, we know the island and its offers perfectly.
We would be happy to find the right fit for you!
If you have already decided to spend your dream vacation in Ibiza this year, take a look at our portfolio of housing options, to save your stay in one of the most popular accommodations in Ibiza.
From there you can jump from meditation class to yoga class, while the kids are in the kids club.
Spend the holiday of your lifetime!
No matter if you are traveling with your family, or individually to rediscover yourself!
Ibiza has got your back on this one!
Feel free to contact us for assistance!
You name it, we've got it! AVANA