---
Ibiza is known for its large variety of activities and types of people on the island.
Different cultures, nationalities, and rituals are mixed up to create a unique, international place to be.
Have you ever thought about spending a vacation with more than the usual 3-4 friends?
How about inviting the entire family to a special birthday or anniversary?
As a business owner, you could invite your team members on an extravagant trip, to honor their hard work.
Team building events or product lounges usually include a large number of guests as well.
A Hen Do party with all your girls in Ibiza will stay in your memories forever.
---
Acommondation for large group in Ibiza
Planning a trip for a large group comes with many difficulties.
First of all, it is important to select a place to stay.
Which villas hold space for a high number of guests and even allow them?
Many housekeepers and owners won't allow more than 10 guests, because, for them, the risk of damage and noise complaints is too high.
Another option could be to rent rooms in a classic hotel, but in this scenario, you should always make sure to book early in advance. Hotel contingents in Ibiza are limited at wanted dates.
Some of the smaller hotels even offer to rent out the entire property for a private event.
As you can see, if you are planning a trip with larger groups, it is a very helpful and smart idea to connect with a concierge agency.
We will provide you with the knowledge of which area of the island is best suited for your trip and can assist by communicating with rental agencies or hotels.
Being our client can bring large benefits especially when you and your group would like to rent a private villa, as landlords trust the assessment of the trusted agent.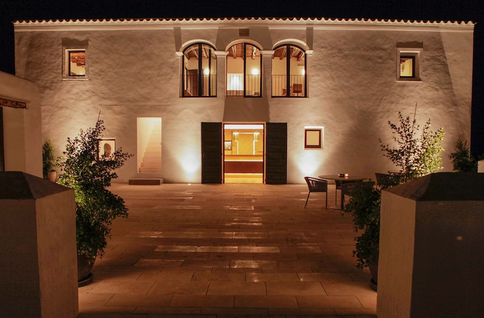 ---
Large group activities
If you prefer to spend time relaxing and simply have loads of fun, without partying in the clubs till the next morning, we have some great suggestions for you:
Start your trip with a Spa Day at home.
Catering willdeliver nurturing and delicious breakfast foods, to start the day right.
Afterwards treat yourself with Facials, massages, and mani and pedis.
Private health professionals will come to your villa and set up a magical, and relaxed setting to fully let go and connect with your body and group members.
Another idea could be to charter a yacht and enjoy a freshly cooked catering dinner in your rental villa.
If you don't want to spend as much money on a private charter yacht, we recommend the Formentera with Benefits trip.
It is an all-day tour that combines private beach time, breakfast, show cooking, live music, and fun in the water.
If you like to party, but not too much during the night hours, a beach club could be a suitable alternative for your group.
At Nassau Beach, you can dance to vibrant DJ sessions, while enjoying the sun on your private beach bed.
No annoying back pain from lying in the sand all day long.
You can order a special private cake, as a surprise for the birthday girl or boy and let everything be decorated to your unique gusto.
Seriously, who doesn't like to be served by a tanned, Spanish beach waiter?
If you are a Hen Do group, how about getting all your makeup done by professional makeup artists, who joins you in the villa as a preparation for the special dinner night ahead?
To discover Ibiza's nature and true beauty, you should book a land excursion.
Choose between a lovely and exciting Jeep safari, which is the perfect mixture of adventure and sightseeing of the most important spots Ibia has to offer.
Or book outdoor activities that are  suitable for team-building events.
A hiking tour by Ibiza Hike Sation for example, will lead you safely to the most extravagant and breathtaking spots of the island.
Surrounded by nature and challenging paths, maybe one or two will question life and the views of living it.

---
Ibiza party with large groups
If you and your group members are wild party animals, Ibiza is the place to go.
As a group it could be a lovely idea to book a VIP table in the club, to prevent the group from splitting up or worse, getting lost in the crowds.
On a special occasion like a birthday or hen party, no one likes to be excluded.
Having a party base at a Club table can help to spend time dancing together.
Enjoy exclusive drinks and the nicest views of the stage.
We recommend booking the tables in advance to make sure the evening goes by without drama and disappointment.
World's top clubs like Ushuaia and Hi are perfect options to spend unforgettable nights out!
We encourage you to book a private shuttle for large groups, as the taxi situation on the island can be difficult during rush hours.
Imagine half of the group stuck at the hotel or rental villa, while the others are already in the Club dancing.
---