In this blog post, I will highlight the pros and cons of rental housing in comparison to holidays spent in a hotel in Ibiza in 2022.
2022 is a year like no other in Ibiza. Especially during the summer month, the island is filled with tourists from all around the world.
After the long period of slow travel, due to the covid pandemic, the numbers of guests on the island this summer exceed even years before the pandemic started. Of course, this affects the island life on a very high level.
Among other things, most of the hotels on the island are completely booked until the end of the high season.
---
Fighting for a sunbed by the pool.
Indeed, the high numbers of guests are good for the tourism sector of the island. Debts can be leveled out. On the contrary, the sufferers are the tourists themselves. It is a vicious cycle.
The prices are at extraordinary expensive levels, like never before.
Beaches are crowded and it is almost impossible to get a table in popular restaurants without a reservation.
Due to the high booking of hotel rooms, breakfast buffets and hotel pools are packed. Sadly, the morning fight for a sunbed by the cooling pool is no rarity this season.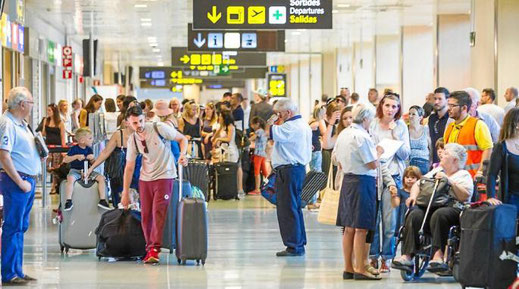 ---
To escape from all of this, how about trying something new this year?
Instead of a hotel, rent an apartment or a villa.
This option provides you with a lot more comfort and privacy.
Relax at your own pool and take a swim to get the refreshing cooling, which is very much needed during the hot midsummer days.
Invite friends over at night for an outdoor BBQ gathering or  a pool party with ibiza based private DJ.
Most of the properties are fenced and offer maximum safety and protection. This is important, especially if you are traveling with children.
We always recommend visitors to rent a car or scooter whilst staying in Ibiza, because most of the hidden gems and beaches can only be reached via car or scooter.
Most of our properties come with their own DJ equipment, in case you booked your house already without equipment, don't hesitate to get in contact and we'll gladly arrange everything related to your private event for you.
---
The ideal apartment solution
All of this sounds boring to you? Are you a true night owl, while staying on the withe island? There are many different options for you as well, don't worry!
Do you like to party at the best clubs in the world?
Ibiza is known for its large party community, which varies in the style of music and location. If this sounds exciting to you, the option of renting an apartment would be most suitable. This way you have the comfort of a private living area, combined with the luxury of having most of the clubs and bars within walking distance. We offer apartments located directly in the vibrant area of Playa den Bossa.
How about preparing drinks and dinner for you and your friends, while all of you enjoy the beautiful sundown or golden hour of Ibiza on a spacious private terrace?
Afterward, take a short walk to the clubs of your choice. No need to wait hours in the taxi lane. As everyone knows, the way home after a long night out can be a little tricky sometimes.
---
The end of summer season.
As the summer season is slowly coming to an end, use your last chances to get a glimpse of the Ibizan sun and vibes. If you tried booking your favorite hotels and were disappointed, because of no available rooms, maybe choose an option of a rental holiday home instead. Take a look into our portfolio of villas and apartments, varying in size and location.
Don't forget:
You name it, we've got it!