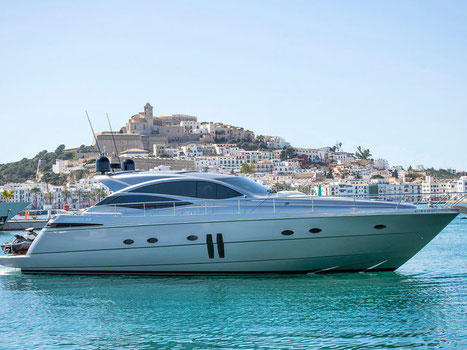 What makes a day at sea special?
In my opinion and experience, there are only two existing types of people: Either you are a real boat and water lover, or you absolutely hate going on boat trips. But for us enthusiasts, what is it that makes it so special?
The feeling that you experience, by leaving the harbor, the sound of the seagulls, and the strong wind on your face? Or the moment, the first big waves of the ocean start to hit your boat?
For me, the overall experience is a true expression of freedom and belonging. Being one of the main elements in our human nature, water surely makes a huge impact. Suddenly being surrounded by tons and tons of this element stimulates our senses. The fact that our bodies are made up 85 percent of water, is one of the reasons, why many of us are drawn to the sea.
Maybe these are the unique impressions that we, as land inhabitants, do not understand completely.
On one of the 300 sunny days here in Ibiza, there are multiple great options to take a boat trip with your loved ones. In about 30 minutes, you can reach Formentera, depending on the type of boat you choose. If you are a sailor at heart like me, what about chartering a sailing yacht or a catamaran?
Set sails and enjoy the calming sound of the wind hitting the ropes. The winds of the Mediterranean Sea are perfectly strong, to build up speed and trim the sails to perfection.
One of the most popular options: Take a trip around the island and explore the little Calas that can only be reached from the seaside. Do not forget to watch the sunset in the northwest of the island. One of the best spots is around the magical island of Es Vedra. Here you can see dolphins, but only on some occasions, whenever the winds are right and not too much boat traffic is disturbing their peace.
After a long day at sea with lots of sun and saltwater on your face, everyone is happy to reach the harbor in the evening. All the boats are turning around and want to get a safe spot for the night. It is a very united feeling of coming home and returning.
What are you waiting for? Do not hesitate to tell us your wishes, your own magical sea experience could be waiting just around the corner. We can arrange every imaginable type of charter boat for you. Starting with tender boats, up to super yachts that hold up to 50 people or a catamaran. Even an old pirate, three-mast sailing yacht can be found in our portfolio.
You name it we`ve got it!
Let`s experience the magic of the sea together!